For everybody wishing to achieve deeper awareness of their holistic selves, using the voice as a compass towards more well being.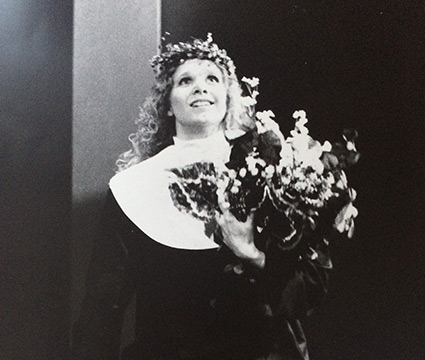 Bridging the classical world of Opera with the Spiritual world.
My aim is to assist everybody who desires to learn to improve and use their own voice for either performance purposes, healing or as a self navigation tool. The voice never lies. It always mirrors how you are doing. It is a great tool to get to know yourself and learn how you best serve your own needs towards increased well being.
I started singing in church choirs as a teenager and loved singing the oratorios and church music. In the past years I have started gathering beautiful Ave Marias and decided to offer them as a meditative – healing program in churches around the world. I feel a really strong call and connection to the divine Maria energy. Cooperating with a local organist makes the program even more whole and gives a deeper connection to the community. It is my role to be a catalyst in healing, cleansing and uplifting wherever people are open to the energy that I am channeling. These concerts can be ordered. The repertoire is ready.
Let your unique sacred sound shine with soulflow and a balanced body.
Yesterday evening I went to Sólrún's Soundhealing and what an Experience. I would never believed that it would have such a strong effect. We were 8 with Sólrún and sat together in a circle. First she guided us through a deep meditation and while we were in this relaxed state of being she begun singing. And what singing that was! I got goosebumps and my tears were running down my cheeks. She sang specially for every individual and also for Everyone. She either stood in of front of each one or behind and in the middle while our eyes were closed and our senses were on high alert. I have no words to explain the effect her sang had on me - but it felt really good. There is a long time since I have slept so well as the night afterwards. Thank you my dear Sólrún Bragadóttir.
Thank you for a beautiful and a unique concert with elements of play in a more free form. It was wonderful to see you and feel your youthful expression. I had big experiences during the concert. One was at the end of one of the first piece. You brought my whole cranium into a vibration and the space around my heart started resonating. Also in all the holes in my head. You cleansed them all! The other experience I had was that I was totally in sync with you energy wise and in sound. I knew exactly how the next tone would sound. If I could sing I would have been able to sing a duet with you through the whole concert. So this was a real connection between us. I am curious to know if others also felt this. I actually believe so!
Dearest Sóla, thank you for your amazing singing! It was a very intense experience for me. Your voice brought my whole inder being to vibrate. It felt like a part of my armor disappeared and my heart dared to open up more. The pressure in my chest that I have had for a while got transformed into gratitude and love while you were singing, Thank you and a big hug to you.
Many years of exploration of the world of voice makes Sóla Braga a unique teacher. She is powerful and a sensitive singer that has been fortunate to be able to develop her own voice and herself that is mirroring in her artistry. Several years ago I enjoyed her guidance along with other voice students and since then I have been fortunate to participate in other workshops she has been teaching. The healing power of music has always been an inspiration to me and I find Sóla's method that she has been developing through the years, magical in the way she guides people to use the power of deep breathing and the purity of tone to strengthen and connect to their bodies and souls.
Jónshús, Øster Voldgade 12, 1350 Copenhagen - Tuesday, 30 October 2018
En aften med healing igennem min stemme. Jeg tager dig igennem en indre rejse via en dyb meditation og derefter fokuserer jeg på din maskuline og feminine sider. Intuitivt tager min stemme styringen og giver udtryk for din energi. Løser blokeringer, oplyfter og heler. Udover det kommer der ofte beskeder og billeder som jeg giver videre til dig.
Tónskóli Sigursveins í HRAUNBERGI - Reykjavík -Tuesday, 13 November 2018
Ég leiði þig í gegnum djúpt innra ferðalag í hugleiðslu og alignment. Stend síðan upp og stilli mig inn á hvern og einn þátttakanda og leyfi röddinni minni að taka stjórnina og tjá orkuflæðið í þér.
Við deilum og hreinsum í lokin.
For further information or to book an event
Masterclass for Classical Singers
Umbria, Italy - 16 to 23 June 2019
Price for the Masterclass: Early Bird 2.150 Euro – deadline 01.03.2019. Price after 01.03.2019 2.400 Euro.
Everything is included, except flights. Transportation from train station is included. Extra massage and wellness offers are not included.
The Masterclass, Workshop, Concert and Accommodation will take place in a luxury resort, the old Monastery San Biagio in Umbria – www.sanbiagio.net.
Deadline for registration 01.05.2019
Umbria, Italy - 6 September to 13 September 2019
You do not need any previous experience in singing in order to participate!
The three key elements of the week, EMBRACE – EMBODY – EXPRESS, are designed as a gentle, respectful and empowering rite of passage: a deep journey into elements of your own SOULFLOWSINGING. You will focus on your own unique sound in your own sacred space, learning to use your voice to become a compass in your life towards more well being.